Bio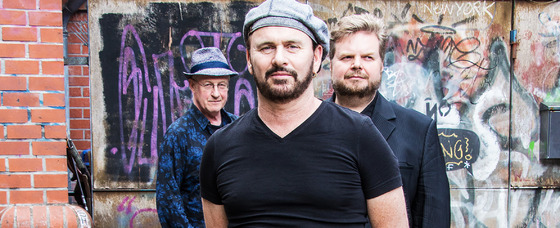 DAVE GOODMAN – Guitar & Vocals
STEVE BAKER – Harmonica & Backing Vocals
OLIVER SPANUTH – Drums

It's always refreshing to hear musicians with this level of technical ability who prefer to use their instrumental skills to serve the songs, rather than merely demonstrating their virtuosity. This band can boast three such players.
Master guitarist, singer and composer Dave Goodman and harp maestro Steve Baker released their critically acclaimed first collaboration "The Wine Dark Sea" in 2012. Since the autumn of that year they have been performing in a trio with drummer Oliver Spanuth as the Dave Goodman Band. This exciting line-up is rapidly earning a reputation for killer live shows which offer a breathtaking mix of energy, intensity and virtuosity, while always putting the songs first. Steve Baker has been cited as one of the "top 10" harp players worldwide. He and brush specialist Oliver Spanuth lock into Dave Goodman's brilliant guitar work to create a unified whole which is clearly greater than the sum of its parts. Moving between sensitive accompaniment and dazzling improvisational solos, the band delivers riveting instrumental work which always revolves around the songs. The band performs with a passion and intensity rarely heard in semi-acoustic music and their musical interaction is full of surprises. From tender ballads to deep blues, ripping bluegrass and Americana to kickass rock'n'roll, the Dave Goodman Band offers a fascinating concert experience with great original songs, beautiful solo work and a high degree of fun and relaxed entertainment.

Dave Goodman

"This man can do it all. A virtuoso guitarist and fascinating singer, he writes evocative lyrics and turns them into great songs with hit potential." –Akustik Gitarre

Goodman hails from Victoria, British Columbia (Canada). A world-class guitarist, he initially studied jazz in Vancouver before moving South to San Francisco to play in the Bay Area. There he became a fixture in the music scene and shared the stage with countless local and national artists including Tommy Castro and Jeff Healey as well as working for the Mesa Boogie amplifier company for several years. In the late 1990s, after touring Europe with the Ford Blues Band, he relocated to Germany, where he again re-invented himself as a fingerstyle acoustic guitarist of the highest order. A talented songwriter and expressive vocalist, he is at home in a huge range of styles. His abilities as a guitarist soon attracted the interest of Yamaha and for the past several years he has presented guitar workshops for the company all over Europe.
Steve Baker

"When Steve Baker plays, I listen! He is my favorite European harp player and one of the most powerful and moving melodic players that I have ever heard."
– American harmonica customizing legend Joe Filisko
Steve Baker is one of today's most influential harp players and an integral part of the modern harmonica scene. He was born and raised in London, England and now lives near Hamburg, Germany. He can look back on a career which has included literally thousands of live performances and hundreds of studio recordings in the most varied styles. He is the author of The Harp Handbook as well as several other seminal works on the instrument. As a consultant to the Hohner company since 1987 Steve has also been closely involved in the development of several new harmonica models. He has developed an instantly recognizable original style which is both expressive and lyrical. His subtle and rhythmically accented phrasing, combined with a rich command of timbre and tone, communicates an emotional intensity and depth of feeling which is rarely heard on the harmonica.

Oliver Spanuth
"Spanuth has the groove and the power to take the lead and define the beat, but also the sensitivity and musical ear to know when it's time to lay back and reduce things to the bare essentials of minimalist rhythm." – Schwarzwälder Bote
Oliver Spanuth is an exceptionally atmospheric and grooving drummer who began his studies at the American Institute of Music in Vienna under Jeff Boudreaux. He later attended the HFK School of Arts in Bremen, where he studied with Charly Antolini and Helge Zumdiek, before enrolling for the renowned refresher course "Popkurs" in Hamburg, where he was taught by Jim Chapin and Udo Dahmen. Later in Los Angeles he was able to study with the great jazz drummer Jeff Hamilton, who had an enormous influence on his later career. Oliver has worked with numerous German and international artists including Stefan Gwildis, Achim Reichel and Ian Cussick. His remarkable playing provides the dynamic rhythmic foundation for Goodman & Baker's music.
Mehr Infos: