Bio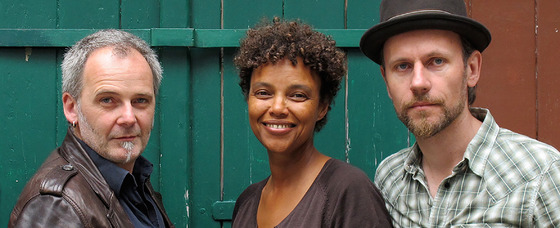 Opportunity - an acoustic trio which fuses georgeous three part harmony vocals, sparse instrumentation and subtle arrangements to create a fascinating and original blend of light-footed soul, catchy pop melodies, country-influenced Americana and grooving funk.
Marie Fofana – vocals & percussion
Thomas "Gaz" Brodbeck – vocals & bass
Axel Nagel – vocals & acoustic guitar

The three protagonists take it in turns to sing lead and all have totally different voices - from the transparent clarity of percussionist Marie Fofana, or guitarist Axel Nagel's distinctive country roots twang, to the hard-edged soul bite of bassist Gaz - which offer endless possible combinations for an ever changing kaleidescope of lead and harmony vocals. Their minimalist instrumentation provides an astonishlingly varied and solid underpinning for their vocal work which puts them in a class of their own and leaves the listener wondering how they manage to make it all sound so effortless. It's the fascinating individuality of their ensemble sound, the remarkable ability to apply their magic formula to the most varied compositions and truly make them their own, which really stands out and makes Opportunity one of the most unusual acoustic acts around today.

Since the band was founded in 1998, Opportunity has released a total of four CDs, all recorded live, which underline not only the high musical standard of their live performances, but also their continual search for new material. Opportunity first encounted Steve Baker in 2008. Baker's funky and intense harp style fits perfectly to the sound of the band and he joins them regularly as a special guest whenever circumstances permit. Their appearance at the Harmonica Masters Concerts 2012 promises a real treat for all fans of high-end contemporary harmonica and sophisticated acoustic music.
More Info:
www.opportunity-music.de
www.youtube.com/kulttrio