Bio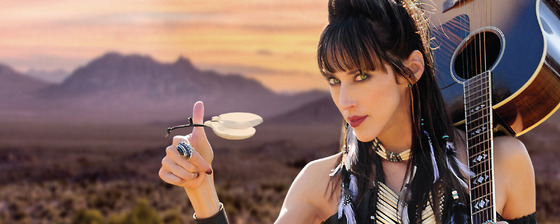 "As I've gotten to know Patricia over the years, I was first drawn not only to her natural beauty, but to her passion for her music, her drive, her hunger to perform. You can't take your eyes off her when she's onstage. The combination of the power of her performance and the romanticism of her songs creates a real mystique onstage, a very heady concoction." – ALEJANDRO ESCOVEDO
Texan kick-ass rocker Patricia Vonne has worn many hats in her day: singer, songwriter, bandleader, actress, activist, award-winning animator and more. But with the release of her seventh album, Top of the Mountain, she takes her musical career to a new level. Following on the heels of her acclaimed all-Spanish album, 2015's Viva Bandolera (which made the Top Eight list in the Huffington Post), Vonne's new effort incorporates all the multi-faceted components that define her unique musical persona; rock, folk, flamenco, bilingual Tex-Mex and Latin strands that, taken together, form a rich and colorful tapestry.
Asked to describe her music to a stranger the San Antonio native and Austin resident replies, "I call it roots rock with a south-of-the border flavor. It's always been important to me to embrace my Latin heritage through my music." Vonne mixes acoustic guitar with a rock lineup including a stinging lead guitar. She also plays castanets on several tunes, adding their distinctive clacking percussion to her very evocative, lively sound.

The Austin American-Statesman dubbed her "a Tex-Mex spitfire with a rock'n'roll heart who plays a border-crossing bilingual mix of flamenco flamboyance and down-in-the-mud exuberance that's a Lone Star original," while the Austin Chronicle praised her as a "bilingual tour de force [that] melds eclectic with electric and exudes an elegance seldom associated with rock."

Vonne has also made her mark musically on the silver screen: She wrote the song "Traeme Paz" featured in the film "Once Upon a Time in Mexico" starring Antonio Banderas, Johnny Depp and Selma Hayek and "Mudpies and Gasoline" featured in Quentin Tarantino's film "Hellride". Sister of director Robert Rodriguez, Vonne has had roles in several of her brother's movies, including the memorable bad-guy-butt-kicking Zorro Girl in his film Sin City as well as roles in Desperado, Spy Kids and Machete Kills.
Opening shows for kindred souls like Joe Ely, Los Lobos, Chris Isaak, Buddy Guy and others, Vonne was also invited to tour Europe for the first time as a special guest with Tito & Tarantula, best known for their world hit "After Dark", as performed in the cult film "From Dusk Till Dawn". Vonne's enchanting stage presence paved the way for numerous European tours with her own band.
more info www.patriciavonne.com