Bio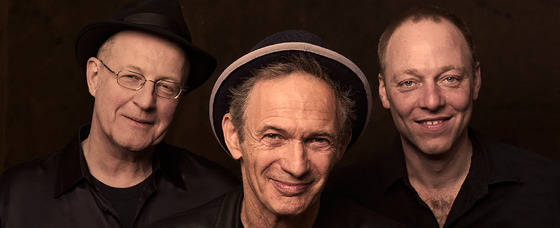 This is all about unpretentious, honest music, which comes together perfectly even in the most improvised moments with a precision which keeps driving the audience to new heights of rapture. HILDESHEIMER ALLEMEINE
Abi Wallenstein: Guitar, Vocals
Steve Baker: Harmonica, Backing Vocals
Martin Röttger: Drums
Charismatic, innovative and always compellingly authentic - with this unusual trio featuring percussionist Martin Roettger and his long-time musical partner, harmonica virtuoso Steve Baker, Hamburg's blues legend Abi Wallenstein offers a totally personal take on the blues, a boldly minimalist synthesis of archaic and modern forms.

BluesCulture present a unique stylistic fusion which integrates deep delta blues with funk and hip-hop beats and rough-cut rock with heart-rending ballads. The dynamic interplay between the three musicians is unpredictable and gripping. Their spontaneity and energy create a fascinating blend of diverse musical elements which defies the boundaries of conventional stylistic clichés. Forget about categories - this highly infectious mix is something for fans of good hand-made music everywhere!

Abi Wallenstein has always been a proponent of the stripped down approach, creating maximum impact with minimal means. The direct and open personal contact, the creative interaction with the audience which allows listeners and musicians to become one, is absolutely central to his music. With Steve Baker and Martin Roettger, Abi has found a formation dedicated to this spirit: BluesCulture!

As well as performing all over Germany, BluesCulture have brought their unique brand of musical magic to audiences in Holland, Belgium, Austria, Switzerland, France, Poland, Hungary and in Russia, where they performed before rapturous audiences at the Moscow Musicfest and the Neva Delta festival in St Petersburg. BluesCulture are a truly international trio with their own vision of where the blues is going. Their current live CD "In Concert" documents their gripping live performance and underlines their position as one of the most exciting roots music acts in Europe.