Bio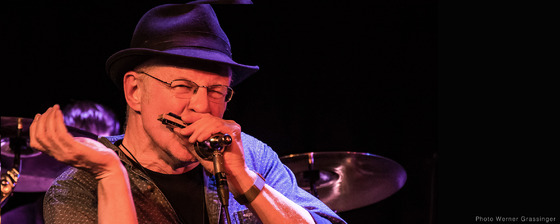 Current Album – THE GREAT DIVIDE – Timezone Records
"Baker accompanies his critical lyrics with catchy melodies and rocking rhythms which have real earworm character." –
HAMBURGER ABENDBLATT
Born and raised in London, Steve Baker has long enjoyed an international reputation as an innovative and stylistically versatile pioneer on the harmonica, with an instantly recognizable and highly musical style which is both expressive and lyrical, characterized by his subtle, rhythmically accented phrasing and emotionally charged delivery. As an accompanist and partner, he has performed and recorded with many highly respected artists over the course of his professional career, including Tony Sheridan, Abi Wallenstein and Chris Jones. Baker has worked as a studio musician on hundreds of recordings for artists including Hazmat Modine, Klaus Doldinger, Dionne Warwick and Marla Glenn. He has also played on various soundtracks for TV and film, including Soul Kitchen by Fatih Akin or the June 2018 Bollywood blockbuster "Sanju" by Indian star director Rajkumar Hirani. He enjoys an international reputation as an author of groundbreaking harmonica literature, teacher and long term consultant to the Hohner company.
With the release of his first solo album Perfect Getaway (Timezone Records TZ1473) in 2018, Steve Baker took on the role of frontman for the first time, presenting his exciting original compositions with assurance and conviction. The follow-up The Great Divide (TZ1884) makes it clear that his musical journey is far from over and underlines how he has grown as a singer and songwriter. The 11 new songs tell stories of life, love and the pursuit of happiness in an age of lies and strike a deeply personal note that reflects our turbulent times. His handcrafted music bears an unmistakeable stamp of authenticity and covers a broad stylistic spectrum, shaped by everything from British beat to funky New Orleans groove, from pulsating rock to dark modern blues.
To perform this music live, Baker has assembled two line-ups of top-class musicians: the LiveWires as an electric rock band with guitar, bass and drums, and the Acoustic Band with upright bass and acoustic guitar. Both offer a wiry, sparsely arranged sound with strong backing vocals. In concert, the emotional intensity of Steve Baker's performance always makes a direct connection with the hearts of his listeners. Now he brings the same joy and conviction to this new role as frontman and bandleader, while his umistakable harp playing adds the finishing touch to his timeless original compositions.